By
Suzanne Hull
Tell us about your business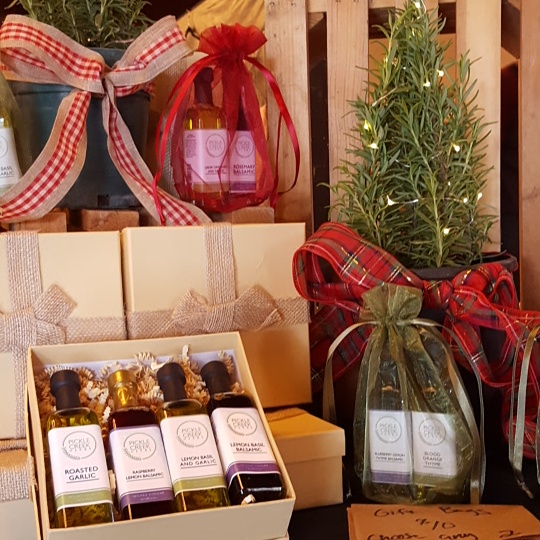 Hello from Pickle Creek! We are a small family farm in Pleasant Plain, Iowa. We grow herbs, fruits, garlic, and peppers that we use to create infused olive oils and vinegars, soaps, salves, and balms. We make everything by hand in small batches using our own original recipes. With Pickle Creek infusions, you can bring all the life, spice, and flavor of the summer garden to your kitchen and home.
What inspired you to get involved as a vendor at Christkindlmarket Des Moines 2019
It's an awesome and unique experience! We first heard about Christkindlmarket from friends, and it jumped out as something special—we hadn't seen anything quite like it in Iowa. That was back in 2016, and we've been participating ever since. The visitors, volunteers, and other vendors are so cheerful, festive, and fun!
What products will you be selling at Christkindlmarket Des Moines 2019 and why did you choose them?
To stay in the spirit of Christkindlmarket, we'll be selling only our handmade products that we create using our own herbs and recipes. We'll especially be featuring holiday gift boxes, baskets, and bags in traditional holiday colors.
Anything else you'd like to share?
Christkindlmarket is not just shopping and eating—it's an experience unlike anything else in Iowa. It's especially charming when the lights start to shine, a cup of Glühwein warms the fingers, and the cheer in the air evokes the Christmas magic you loved as a child. It will definitely put you in the holiday spirit!