By
Suzanne Hull
Christkindlmarket Des Moines 2019 is pleased to feature Verak X.O. as a Glühwein add-in at #CDM2019. This brandy comes to us all the way from Stone Castle Winery in Kosovo. Have it added to your Glühwein for that added "kick"!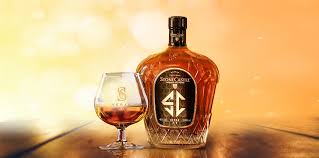 Kosovo has contributed to the culture and heritage of Europe and has some of the most historic locations in the Western Balkans. Artan Duraku, Chief of Mission, Consulate of the Republic of Kosovo adds, "We are young, dynamic and ready to share some of our best goods with Iowans. Verak embodies the richness of our climate, soil and spirit. Enjoy!"
Verak X.O is a brandy made by Stone Castle Winery's old Cognac methodology from the distillate obtained by handpicked and carefully selected varieties of white grapes. It is preserved for 10 to 25 years in five hundred-liter wooden oak barrels and stored in the underground cellars of Stone Castle Winery.

Stone Castle Vineyards and Winery is a hidden gem in the heart of Rahovec Valley, a region that has more than 2.000 years of winemaking culture. Stone Castle takes great pride in growing the highest quality grapes and premium quality wines by combining the latest technological advancements with traditional winemaking methods. From handpicking grapes that surpass quality standards to de-stemming and fermenting, aging in oak barrels, bottling, corking and labeling. Stone Castle gives it's very best that every bottle is unique, made with passion and love for the product.