By
Anna Van Waardhuizen
Traditions are an important part of Christmas markets around the world. Handmade gifts, delicious food and vendor stalls are just a few of the well-known traditions associated with Christmas markets. Every market has their own style and history, but one tradition seems to unite them across countries. Glühwein mugs are a staple at markets each year.
For those who haven't experienced Christmas markets before, Glühwein is hot mulled wine. This drink is a favorite for visitors and is often served in souvenir mugs. These mugs are often customized for each market or even for each year.
Christkindlmarket Des Moines is bringing a Christmas market to Iowa for the first time, we thought it was important to celebrate the traditions that make them special. For that reason, we are excited to announce Christkindlmarket Des Moines 2016 Glühwein mugs will be available during the event this December. We're working with Sabine Voigt to create our mugs. Currently, she designs the mugs for Cologne, Germany's Christmas market. Check out the example of her work below.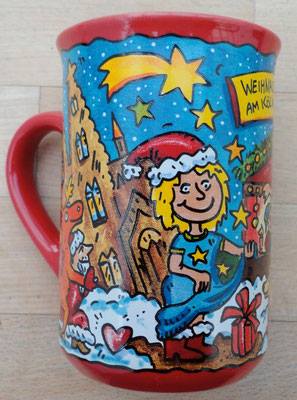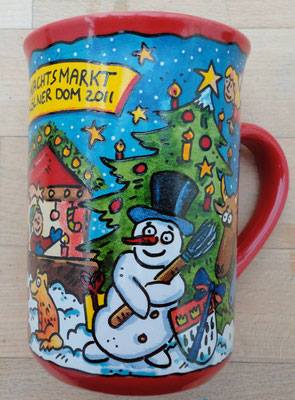 If you're as excited as we are, you can reserve your mug in advance before July 1 with a donation of $25 or more. We will be ordering a fixed quantity and we want to be sure our supporters are guaranteed this keepsake, boot-shaped collectors items. How special would it be to have a Glühwein mug from our inaugural event?
We will be taking pre-orders those who donate $25 or more before July 1. If you would like to reserve your mug, check out our donation page and make your donation through Paypal or Dwolla. Don't forget to share this opportunity with friends and family. We don't want anyone to miss out!
Des Moines European Heritage Association connects Iowans with European traditions, language education and cultural experiences; and it provides resources and tools to other cultural heritage organizations.