Location
Christkindlmarket Des Moines will be held at Cowles Commons in downtown Des Moines (221 Walnut St). For directions to the Market, please click here.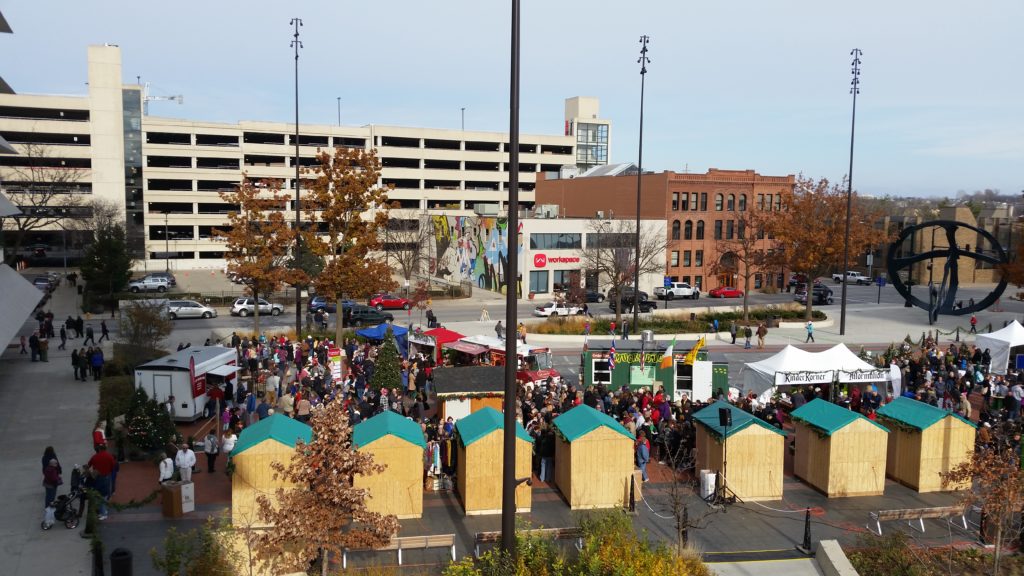 PARKING
Parking downtown is FREE on the weekends. Beginning at 6 a.m. on Saturday, parking in all City ramps are free of charge. Parking at meters is free all weekend, as well as after 6 p.m. during the week.
The following City of Des Moines parking ramps are near Cowles Commons. For additional parking ramps, visit http://www.downtowndesmoines.com/park. The following parking ramps will be charging "event parking" rates ($8/day – $10/day) on Friday, December 2 and Saturday, December 3 due to performances at the Civic Center.
5th and Walnut Ramp: 422 Walnut Street, Des Moines, IA 50309, Phone: 515-243-8442, Cost: 1st/2nd hours — $2/hr., Additional hrs $1.25/hr. Total Spaces: 609
4th and Grand Ramp: 400 Grand Ave, Des Moines, IA 50309, Phone: 515-243-8442, Cost: 1st/2nd hours — $2/hr., Additional hrs $1/hr. Total Spaces: 1016
3rd and Court Parking Ramp: 210 2nd Ave, Des Moines, IA 50309, Phone: 515-243-8442, Cost: 1st/2nd hours — $2/hr., Additional hrs $1/hr. Total Spaces: 750